paian
that I was thinking about doing a 'Daniel Jackson fashion through the ages' post. She might have thought I was kidding -- I very well may have, in her place, because honestly, what sane, rational person would want to gaze overlong upon some of the really terrible outfits forced upon the otherwise yummy Michael Shanks by the costume department?
But alas, no, I was serious. In the interest of recording our hero's intrepid journey from disaster to delicious, and because time warps are always fun, I present to you, Jacksonian Fashion: a visual history of the good, the bad, and the plaid.
Before we begin, a note on what I did and did not include: I've only chosen screencaps of outfits that Daniel picked himself, and that were not default choices for lack of other options, or in some way a 'costume' (1969 and Seth, I'm looking at you.) Certain episodes are questionable for whatever reason (usually, it is because it's debatable whether or not Daniel picked the outfit or it was projected onto him). I've marked these with an asterisk after the title.
Updated!
On March 6 to include 'Bane.'
Also, obviously, as a warning -- these posts are image heavy.
All that said, join me, dear readers, as we go back, back, waaaaaaaay back...
The Torment of Tantalus
Daniel sets a strong precedent, early, for some really unattractive checked-shirt-blazer-chino combinations that will continue well into the fourth season. Why? It is a mystery. Catherine seems almost as amused as I am.
Singularity
Two things: one, I've discovered that the fanon trope of Daniel always wearing clothes that are too big appears to not be entirely without merit. That is a lot of shirt, dear readers. Two, Daniel appears to be accessorizing with a mic pack (check the belt). Nice work, sound crew.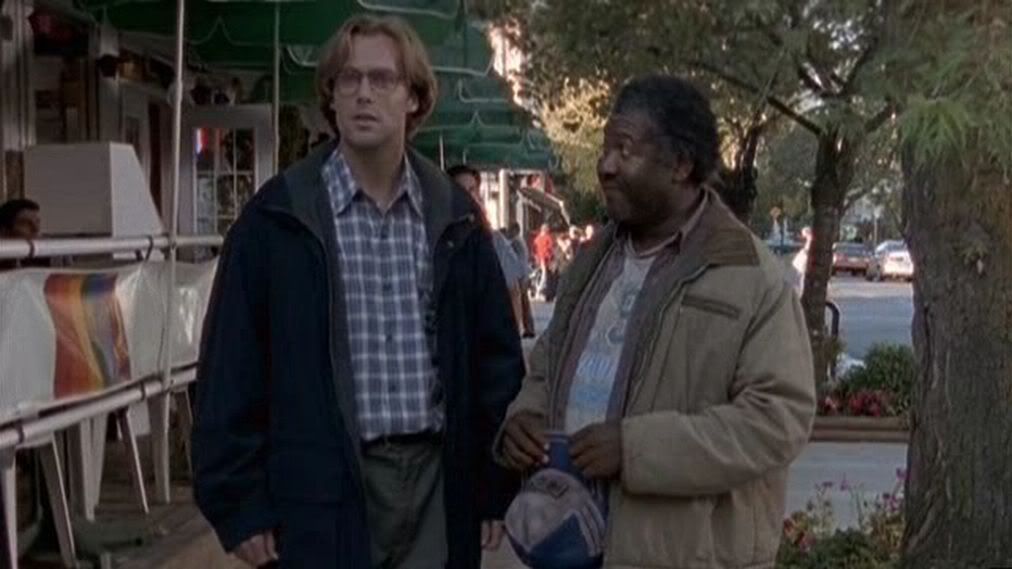 Holiday
Although we can't hold Daniel directly responsible for Machello putting together this outfit, I can only presume that these clothes
were
retrieved from Daniel's locker.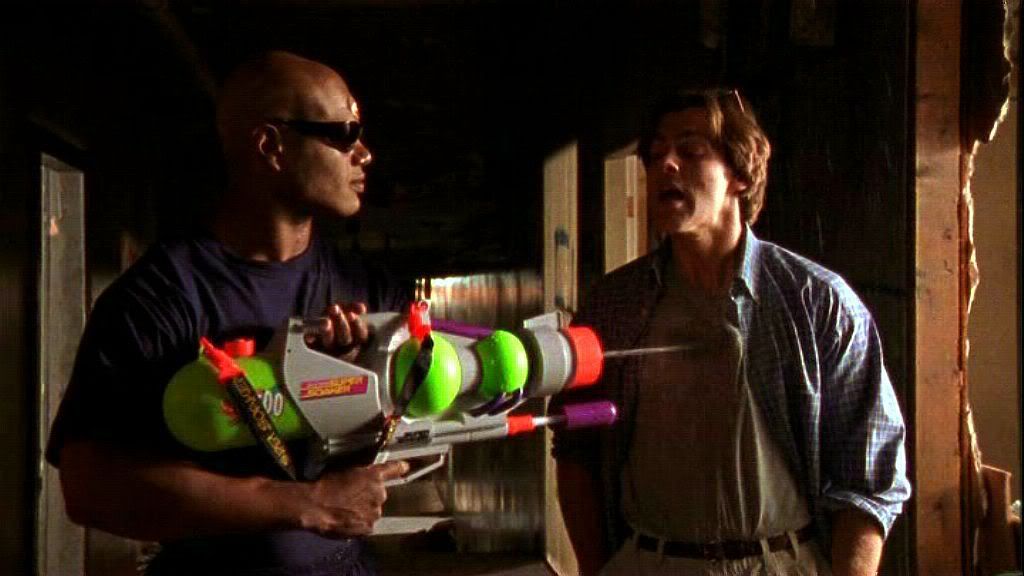 Bane
Why look, everyone, it's Beachcomber Jackson! He comes equipped with fluffy, windswept hair, glasses perched casually atop his head, the Sunday afternoon t-shirt, the 'Torment of Tantalus' check left rakishly undone...it's a shame he's not wet, to complete the look.
Oh! Thanks, Teal'c!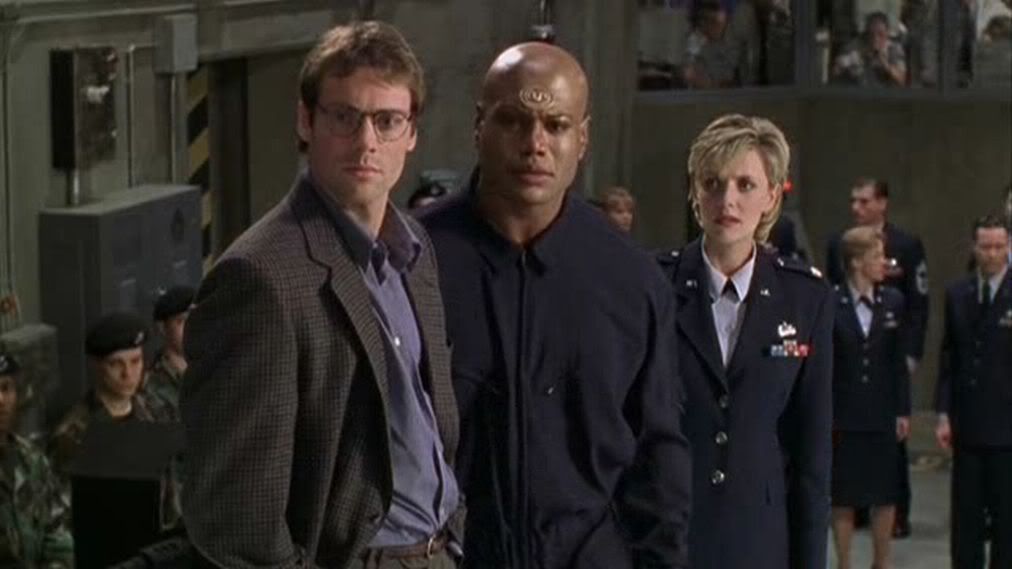 Fair Game
And a million fics referencing Daniel wearing tweed were born. I have to admit, this outfit is not nearly so bad as I remember it being. Which is not to say that Daniel could not afford to invest in something a little nicer with which to meet the universe.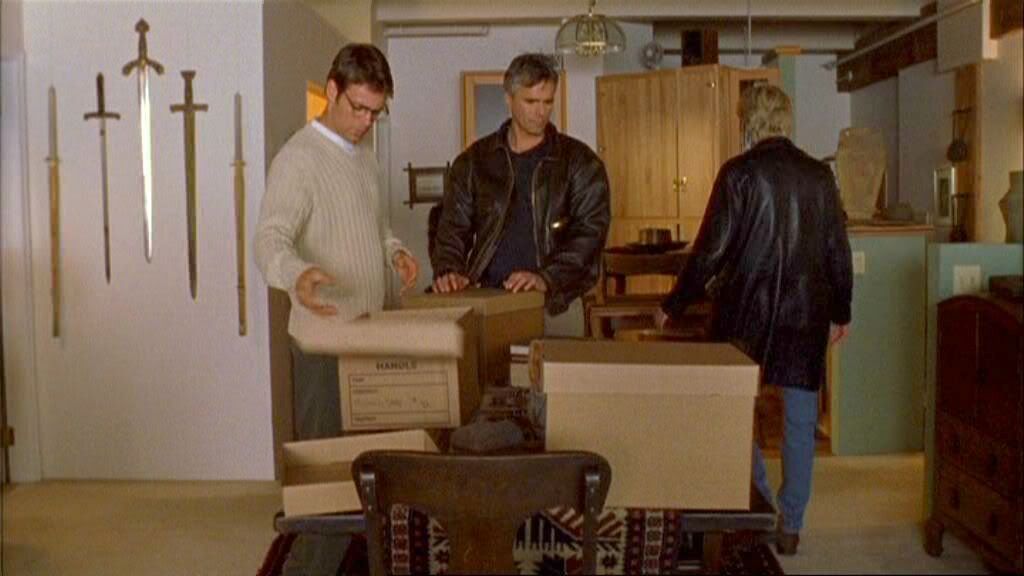 Forever in a Day
Aah, the Sweater of Enlightenment, back when it was the Sweater of Mourning. You know he's still a lower being, dear readers, because of the t-shirt.
Forever in a Day
Still, with the vaguely baggy clothes. Not a bad outfit, all things considering, but it pales in comparison to Kasuf's sweet flight suit.
Forever in a Day
Not only cute, but
possibly
the same shirt we saw in 'Singularity'. As you will begin to notice, Daniel more than anyone seems to have a set wardrobe that he cycles through the seasons, and so I would be not at all surprised to discover that shirt is the exact same that we saw previously.


Foothold
This is
not
the same shirt as we saw in 'Holiday,' although, as
jessm78
points out, it
is
the same one that first introduced us to the concept of Daniel in street clothes, from 'The Torment of Tantalus,' and 'Bane,' as you recall, which leads me to believe that Daniel is inordinately fond of blue checks, particularly
these
blue checks. Solids, Daniel.
Go solids.
That said, this is definitely the hottest of all possible ways for this shirt to be worn. Nicely played, Dr. Jackson.
Edited to add:
surrealphantast
has pointed out that this shirt could easily double as a tablecloth, and she is absolutely right. Tsk, tsk, Daniel.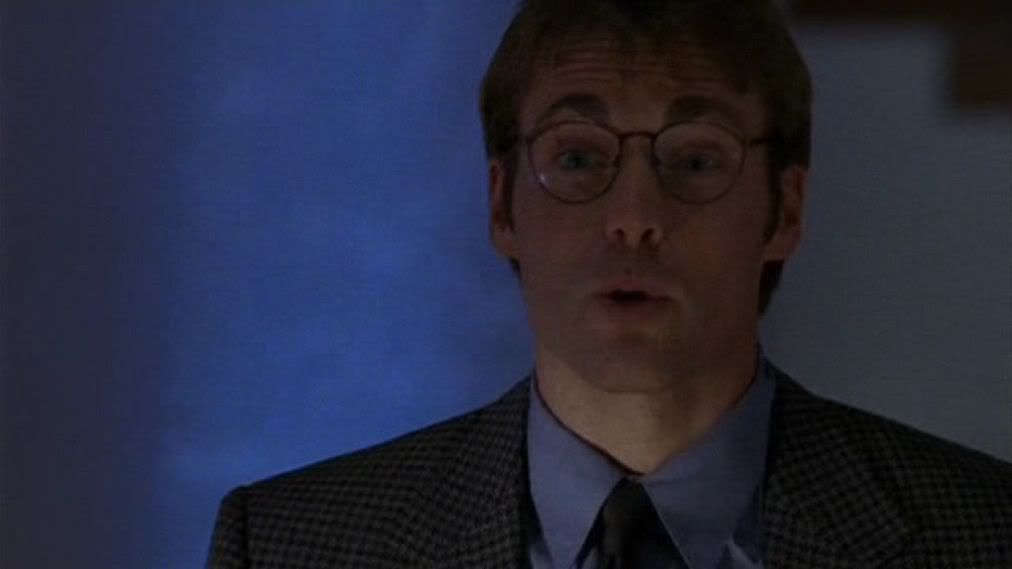 Shades of Grey
Daniel is astounded as I am to discover that it's true, he really does only own one suit
that he should stop wearing to every important function, please
.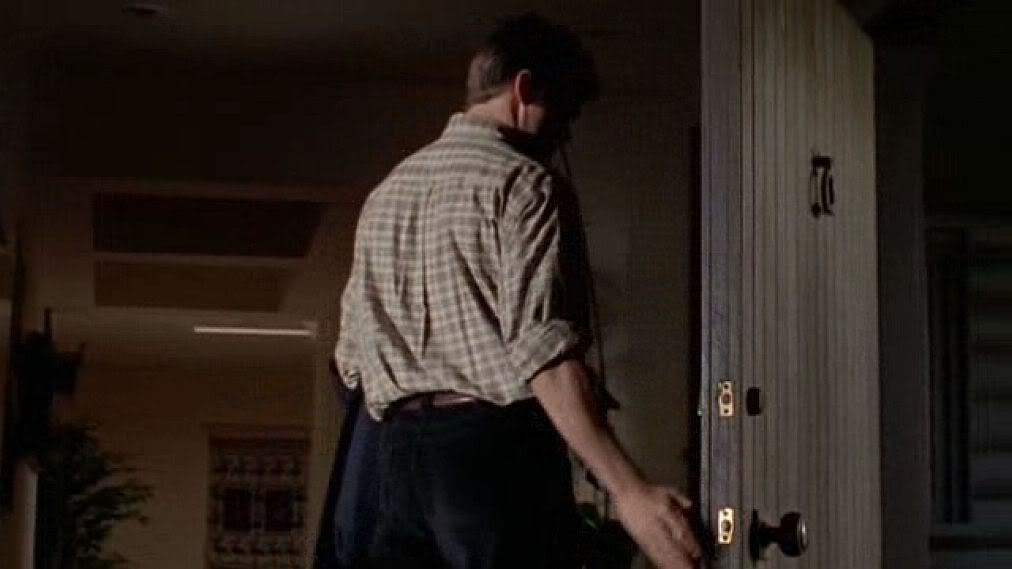 Shades of Grey
I chose this shot, dear readers, not because of the immediately apparent benefits offered by this angle, but because it was the clearest full-body view I could find. I was concerned, you see, that you would not believe me when I reported that Daniel was, in fact, apparently wearing black velvet pants to Jack's house in this episode. Not only that, oh no, but black velvet pants with
a brown belt
. "No foundation indeed," Jack thought to himself. "Black and brown together? Daniel, I've never known you at all."
Absolute Power *
To make amends for forcing such an appalling show of color coordination in the previous example, I offer this consolation -- for your viewing pleasure, the Clinging Pants of Evil. No, you can't see what the front of this outfit looks like, but, really...
who cares
?
I will add that it is
possible
Shifu picked out this outfit, not Daniel, as there's really no way of knowing how in control Daniel was during the dream. If it
was
Shifu, I have to commend him on his excellent taste.
Press onward, dear readers, to
part two
, wherein Daniel is the hottest hot to ever hit Chicago, or
part three
, where the men are men and the shirts are
alarmingly
similar, or
part four
, where the interpersonal relationships on SG-1 take a strange turn, or
part five
: leather, leather for everyone! Also available:
In Jacksonian Fashion -- Daniel Undercover! (the Director's Cut)
Whoo!
Screencaps from the consistently awesome Stargate Caps, with gratitude.
I recently told
Current Mood:

geeky